Forlimpopoli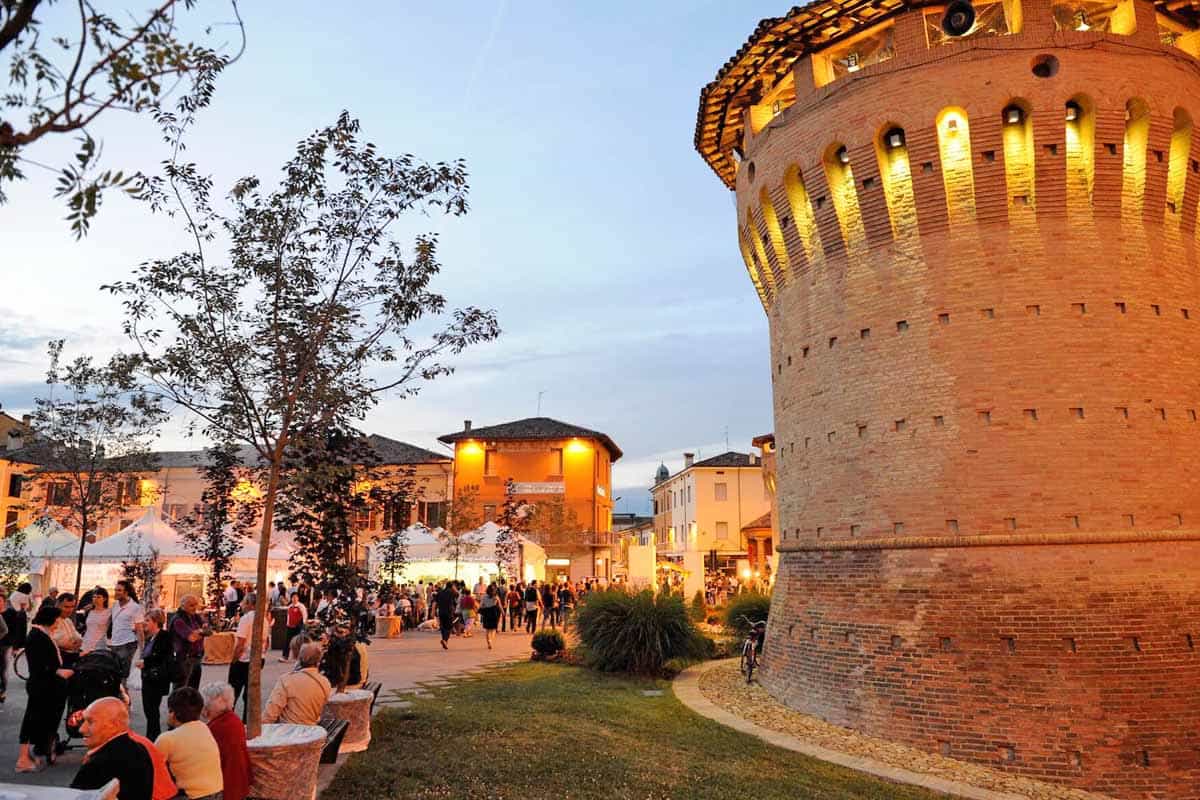 Destination


Romagna

Province


Forlì-Cesena

Distance to the main town


Forlì 8 km - Cesena 11 km
Forlimpopoli is located on the Romagna plain, at the foot of the last hills of the Apennines, about 25 km from the Adriatic Sea. The built-up area spreads along the Via Emilia (S.S.n. 9), between the towns of Forlì and Cesena, where the road meets the Bidente Valley.
When to go and what to see
Today Forlimpopoli is mostly known as the hometown of the man of letters and gastronome Pellegrino Artusi (Forlimpopoli 1820-Florence 1911); in fact it is also known as Artusiana Town, although it also had an eventful history.

Founded by Romans in the 2nd century BC and crossed by pilgrims heading to Rome during the Middle Ages, Forlimpopoli boasts a number of valuable monuments such as Cardinal Albornoz's Castle overlooking the main square. Built in the mid-14th century on the ruins of the old cathedral, the Castle is today home to the Town Hall. Its dungeons still conceal the history of the town as they host the "T.Aldini" Archaeological Museum, with plenty of artefacts and findings from the Paleolithic Age, the Roman era (among which mosaics and amphorae), Middle Ages and Late Middle-Ages found in the surrounding territory.

Worth mentioning is also the Chiesa dei Servi nearby in the square. Dating to the mid-15th century, the church was however given its current appearance at the beginning of the 18th century: a set of buildings dominated by the characteristic 18th century large tower that is even higher than the bell tower.
The interior of the church is magnificently decorated with elegant furniture and six large niches with altars featuring valuable paintings, among which the Annunciation altarpiece painted by Marco Palmezzano.

The Collegiata di S. Ruffillo is an example of 6th century architecture; it is here that the relics of Saint Ruffillo – the first bishop of Forlimpopoli – are held. The church was rebuilt in the 15th century and underwent renovation works in 1821.
In the spirit of 'Science in the kitchen and the art of eating well', Forlimpopoli is home to Casa Artusi, the first gastronomy culture centre dedicated to Italian home cooking.
Hosted in the recently renovated buildings of the Chiesa dei Servi to pay tribute to Pellegrino Artusi, it is the ideal place for tasting traditional cooking, but also for improving your cooking skills at the famous Cookery School.
At the end of June, Forlimpopoli organises the "Festa Artusiana" to pay tribute to Pellegrino Artusi. The one-week event takes place in the town centre and includes shows and performances, tastings, literary meetings and the possibility to eat menus inspired by this great man of letters and gastronome.
Monuments in the territory